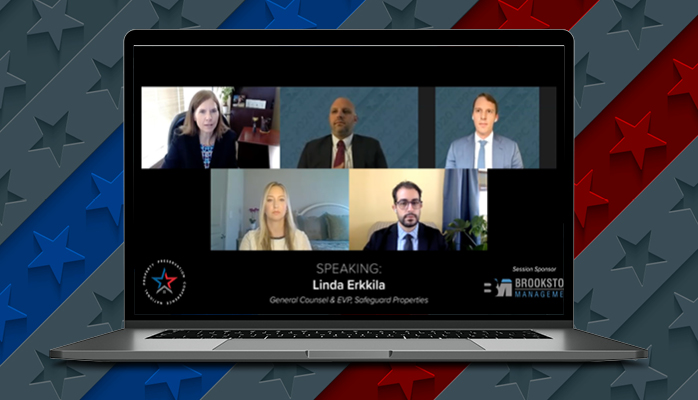 COVID-19 Pandemic, Legislation Lead Topics at 2020 NPPC
November 12, 2020
While this year's platform was much different than anything we have done in the past 16 years at the National Property Preservation Conference (NPPC), the schedule of sessions and elite speakers and panelists continued to provide an opportunity for attendees to witness productive discussions and take part in conversations to move the industry forward.
As we continue to provide you with valuable industry information, below is an overview of what resulted from this year's discussions.
Day 1 Keynote: Min Alexander, Auction.com
Kicking things off was an insightful presentation from Auction.com GM and COO Min Alexander. Serving as the Day 1 keynote speaker, Alexander discussed the critical need for businesses to embrace technology to stay relevant and successful in an evolving world.
State of the Industry: Roundtable Discussion from Housing Leaders
For the eighth year, the State of the Industry session featured discussion among top industry officials on topics shaping the mortgage servicing and housing. This year's discussion centered on the COVID-19 pandemic and how the industry is handling forbearance and eviction moratoriums. In addition to other topics affecting the housing industry, the group also focused on the presidential election and how it will impact servicing.
Solving Business Problems: From Managing Book Loss to Scaling Business in Response to Fluctuations in the Market
In preparation for the predicted influx in volume, this panel discussed scaling your business to align with market conditions. They also addressed the primary drivers of book loss and reducing the loss associated with adverse property conditions, particularly in FHA portfolios. Panelists focused on the impact of FHA's new CWCOT changes and managing hazard insurance claims to ensure maximum recovery with timely repair.
Code Violations: Working Together to Protect Properties
This session brought together mortgage field services representatives, mortgage servicers and key code enforcement officials to collaborate on solutions for managing property violations. Code enforcement representatives stressed that the main roadblock for addressing property violations remains identifying a responsible stakeholder. One of the current solutions highlighted is the ability to report property issues through Compliance Connections.

Day 2 Keynote: Jacob Williamson, Fannie Mae
The day kicked off with Fannie Mae VP for Single-Family Collateral Risk Management, Jacob Williamson, delivering an engaging keynote presentation that provided insight into the GSE's asset management strategy (REO property disposition) and pre-foreclosure property inspection and preservation program.
Legislation: Key 2020 Updates Impacting the Industry
This session tackled enacted and proposed legislation impacting the property preservation industry in 2020. Panelists discussed Maine's Abandoned Properties Act, foreclosure moratoriums, post-COVID-19 practices, New Jersey's proposed maintenance requirement for interior of vacant properties, and New York's proposed restrictions on property registrations.
Cybersecurity: Protecting Data in a Work-From-Home World
The conference welcomed Zoom's Global Deputy CIO, Gary Sorrentino, for a Q&A session with Safeguard's AVP of Business Development and NPPC emcee, Tim Rath. Sorrentino discussed proper cybersecurity measures during these uncertain times, especially as many employees work remotely. He also offered tips on keeping personal data secure and how to identify online scams.

COVID-19: Managing Field Services During the Pandemic
Panelists examined foreclosure statistics and delinquency rates as the industry navigates its way through the COVID-19 pandemic. The session focused on strategies for maintaining vacant and foreclosed properties while moratoriums are in place, in addition to what the industry will face once they are lifted.

Day 3 Keynote: Dror Oppenheimer, FHA
Getting Day 3 of the conference rolling was FHA Senior Advisor to the Assistant Secretary for Housing - Federal Housing Commissioner, Dror Oppenheimer, who delivered a stimulating keynote address outlining actions the agency has taken to assist homeowners who have been adversely affected by the COVID-19 pandemic.
Government: Critical Guidance for Mortgage Servicers
Officials from HUD, ISN Corp., USDA and the VA addressed recently released mortgage servicing guidelines and key issues currently affecting servicing. They explored the challenges faced this year and offered predictions for what is to come in 2021.
Hail to the Chief: Predictions for This Year's Key Elections
MBA representatives discussed how this year's presidential and local elections will impact the mortgage servicing industry. They talked about the view from Capitol Hill, 2020 elections update and outlook, and the intersection of politics and housing policy, in addition to how to get involved through the MBA.
Claims Management: Creating a Rock-Solid Process to Remain Ahead of the Curve
Panelists shared their best practices to ensure claims are submitted correctly and timely. They also explained the common mistakes servicers make that prevent claims from getting reimbursed. Specific best practices for damage reporting, what gets the most disputes on property preservation invoices to servicers, and reporting that has been developed for servicers and property preservation companies to identify gaps in damage assessment process were discussed.
Closing Keynote: Prasant Sar, FHFA
Closing speaker and FHFA Manager of Single Family Servicing Policy and Asset Management in the Office of Housing and Regulatory Policy, Prasant Sar, wrapped things up by providing insight into agency disaster/pandemic preparation and response.
Related posts
The 2022 Atlantic hurricane season officially began on June 1, with the National Oceanic and Atmospheric Administration's (NOAA) Climate Prediction Center, a division of the National Weather Service,…
Late last year, Safeguard Properties began contracting with the Military Warriors Support Foundation (MWSF), a non-profit organization that provides a variety of programs for our nation's combat…